wladthemlat
8

May 2nd, 2013 + 5:05 PM
·

wladthemlat
Another piece from the garage sessions
6

February 21st, 2011 + 8:02 AM
·

wladthemlat
A little indie piece we have recorded in out garage.
6

December 25th, 2005 + 4:12 PM
·

wladthemlat
Hi, here's a produc of my electronic experiments. No idea how to call it, so i chose this simple title. I don't really know what to think about it, listen and tell me what do U think :)
and it's really only an *experiment* :)
16

November 2nd, 2005 + 5:11 PM
·

wladthemlat
My song recorded by me and my band. Production is not that well done, but we recorded it in very provisional conditions. We'd love to hear some comments, so go on guys. And to the title - anyone who knows Muse knows...
I simply got inspired by that song...
P.S. we do not have our drummer here, so this one's a machine....
Alias:
wladthemlat
Status: Offline
Threads:
4
Posts:
14
Songs:
4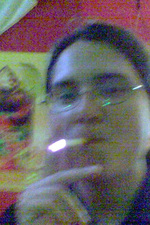 Joined: November 02nd, 2005
Last login: March 08th, 2017
My Messengers
| | |
| --- | --- |
| AIM: | n/a |
| ICQ: | n/a |
| Skype: | n/a |